A Guide to Shikoku Cuisine
Shikoku is truly a foodie heaven. It's one of the best places to eat in Japan. The four prefectures offer a wealth of delicious eating choices.
A Guide to Shikoku Cuisine
Shikoku is an island bordered to the north by the Seto Inland Sea, and to the south by the Pacific Ocean. The interior of the island is very mountainous, but around the coasts and in the river valleys, there are fertile plains. This attractive geography determines the produce available as the basis for Shikoku's cuisine – abundant and varied seafood from the two seas, high-quality rice and vegetables from the plains, wild game meat from the mountains, and delicious nuts and fruit grown in valley and coastal orchards.
The four prefectures of Shikoku each have their own geographic and climatic character too, and combined with their unique traditions and histories, the four domains have developed their own culinary styles.
Ehime — seafood and citrus
The food of Ehime is centred on the seafood of the Inland Sea and Uwakai, whose dramatically tidal waters result in large and muscular fish (or so t'is said anyway), notably sea bream and yellowtail. These fish are superb whether enjoyed as sashimi or sushi, or cooked in various styles and eaten hot.
Ehime is Japan's largest producer of citrus fruit, known generically as 'mikan' in Japanese, although this word covers a surprising variety of types, ranging in size, colour and season. This bounty of fruit can be purchased in fancy department stores at shockingly high prices, or in local markets and at roadside stands for shockingly low prices. It's also pressed for juice, and used to make some tasty, tangy desserts and cakes.
Kagawa — udon and chicken on the bone
Kagawa also borders the Inland Sea and benefits from its seafood, but this little prefecture is better known for its udon noodles. These thick, white noodles with a square cross-section, made from wheat, are found all over Japan. But the udon in Kagawa is made with a particularly protein-rich variety of wheat, which gives the noodles a distinctive flavour and toothsomeness. Served with a simple broth and a selection of toppings, this classic dish attracts devotees from all over Japan.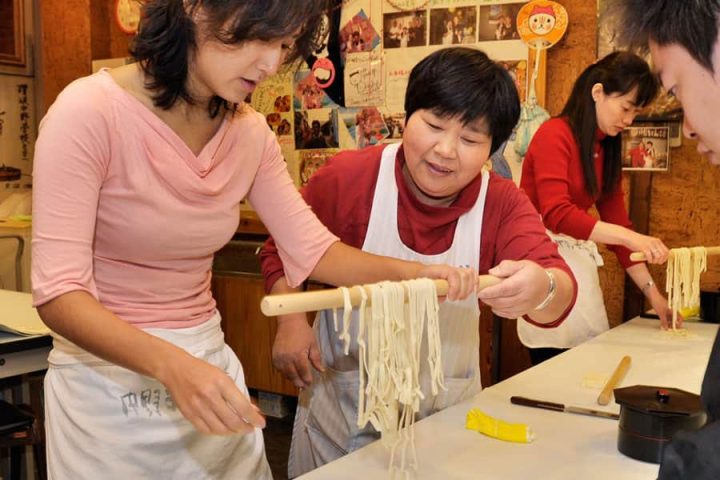 Another speciality of Kagawa is its chicken-on-the-bone, a spicy dish prepared by baking a whole chicken thigh until the skin turns crispy. Many restaurants specialize in delicious chicken, often serving chunks of chicken cooked over charcoal and basted in its own fat. Kagawa's Shodoshima island is the birthplace of olive cultivation in Japan, and olives are used as a feedstock for both cattle and farmed fish, which results in healthy, fat-rich produce.
Tokushima — traditional agriculture and hearty food
Tokushima's Iya Valley is one of Shikoku's best-known destinations. Less well known is the unique form of sustainable agriculture practiced there. The steep valleys are unsuitable for rice paddies, and so the staples are buckwheat, and a nutty, rich-tasting potato variety. The mountain streams are home to sweet-fleshed river fish, and the forests to boar and venison, which results in a very hearty and wholesome cuisine.
The culture of Iya is far removed from urban Tokushima, where a distinctive variety of ramen is served in over a hundred restaurants in Tokushima City alone. The basic form of Tokushima ramen is a rich salty-sweet pork bone soup, flavoured with soy sauce and topped with slices of pork belly. A raw egg added before serving completes this rich and meaty meal in a bowl.
Kōchi — the best in Japan
Kōchi is Shikoku's largest, southernmost prefecture bordering the Pacific Ocean, which provides the region's signature delicacy – 'katsuo tataki', bonito lightly seared over burning rice straw, seasoned with ponzu or salt and garlic. Kōchi is home to several mighty rivers, and their estuaries produce a wealth of edible goodness such as 'nori' seaweed, an amino-rich water plant that's fried in patties as an irresistible izakaya finger-food.
The truly unspoilt nature of Kochi and the enthusiasm of its people for culinary pleasure has brought fame to the prefecture as the best place to eat in Japan, in a recent national survey.
Shikoku — a foodie heaven
While Shikoku has some of the country's best Japanese food, including many varieties of raw fish and meat, there are plenty of options for those who want to eat something more familiar, and thoroughly cooked. There are many restaurants serving very creditable versions of international cuisine, and Shikoku has many excellent bread shops. So-called "B-class gourmet", a fusion of Japanese and Western fast food, is available all over Shikoku, offering tasty local takes on familiar fast food themes.
This little guide to Shikoku food wouldn't be complete without mentioning the island's beverages. Shikoku is home to a large number of sake breweries, a growing number of which also produce excellent shochu and craft beer.
Shikoku is truly a foodie heaven.