Shikoku is an ideal place to enjoy the traditional performing arts and hospitality of the geisha.
In the days before internet, television and radio, when night fell, the only light entertainment available to gentlemen of means was geisha. Geisha studied the arts of song, dance, conversation and diversion, plying their elegant trade in all regions of Japan for hundreds of years. Most people know that they still exist Kyoto. There are many geisha in Tokyo too. But what isn't generally known is that geisha have also survived on the island of Shikoku. And today, gentlemen and ladies equally can enjoy their company, for a very memorable experience.
In Matsuyama, the geisha have their own premises, Hanahimero in Dōgo. The geisha in Kōchi have their own beautiful building, but they also venture out on request.
A typical geisha evening involves a rather elaborate course meal with beer and sake. An older geisha provides accompaniment on a shamisen, while one or more younger geisha perform traditional dances, pour drinks, and lead simple but thoroughly amusing games. The traditional dances are generally short, with many expressive gestures. You can sip sake as you watch. The geisha aren't haughty, distant figures as some might imagine. In between entertainments, they sit with their guests, make sure cups are full, and engage in conversation, at which they're not at all shy.
Geisha have a large repertoire of games. Some are more or less hysterical adaptations of the scissor-paper-stone game. Others involve drinking, and dancing. None require Japanese language ability. None are obligatory.
In Kōchi, you can book a room overlooking a stage where the geisha (and guests) perform. The rooms have sliding doors that can be opened and closed as required. The food served is a true feast, featuring all of the good things of Kōchi, but especially the seafood. Geisha and musicians drop by your room to chat, serve drinks, and play various drinking games to the accompaniment of the shamisen.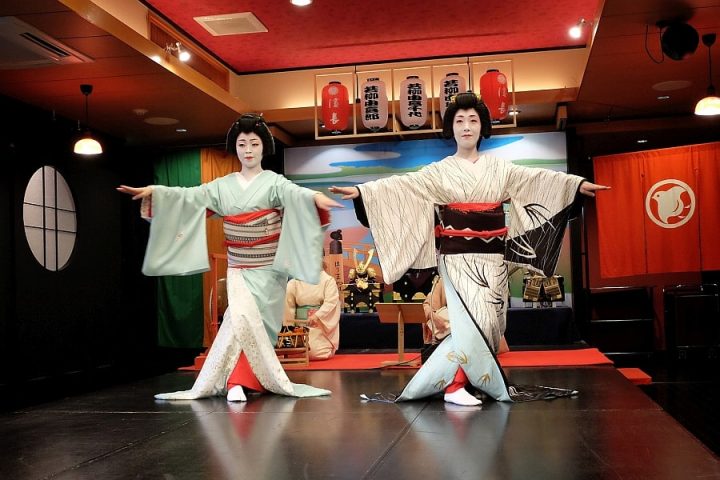 The dances on the stage are accompanied by shamisen and drum. Initially they involve only the geisha. But as the evening draws on, the guests are invited to don ridiculous masks and take part in simple but difficult dances.
A geisha evening is an ideal option for a larger group or for the MICE segment. For more information and bookings, contact [email protected].